Oct 8-10
Drumheller – for those that don't know it, the town and area in Alberta is world renown for the many dinosaur remains found over the past century. On Wednesday morning we toured the Royal Tyrell museum just outside of town. It's very impressive as it walks you through the various stages of evolution. The first few areas showed recreations of dinosaurs – land, air and aquatic. Later on in the tour the displays showed the real deal. Usually they had to cast certain bones as they weren't either found or fossilized when making the full skeleton. It was impressive and well worth the visit. Not sure I could ever have the patience to be a paleontologist.
Early afternoon, off to Banff for 5 nights in one of the national campgrounds. Arrived around 6 pm. Dinner and a campfire! There are only a few sites that actually have fire rings which you pay an extra $8.80/night. It's worth it this time of year when the temps dip to 0 C at night. Firewood is included and there is lots of for nice big fires. The weather the last 3 days has been stunning with day time temps of mid to high teens and full sun. Thursday we headed into town via a town bus that comes right into the grounds, about a 3 minute walk from our site. Service runs from 6:15 am to near midnight. The bus ride is about 4-5 minutes to town. We'll likely walk into town one day using a trail that follows the Bow River (4.8 km) then take the bus back. We oriented ourselves starting with a look at the Banff Springs Hotel. A hike along the river to town brings into a tourist Mecca of shopping, museums, galleries and lots of places to eat and drink. The town is clean and beautiful, and this time of year with the trees starting to lose their golden leaves makes it look that much more pretty. Jazz stayed behind at the camp to "guard" the RV. We had lunch in town, and then proceeded to the Tunnel Mtn. Trail (2.4 km one way – 240 m elevation gain). It was classed as moderate, but for us it was a little more challenging, especially after lunch. We need more training. Kathy was finding her new hikers hurting a bit, so 1/3 of the way, she decided to sit in a sunny parking lot and allow me to make the summit. I continued the last 1.8 km up and back in 1 hr. Beautiful weather up there and on the way down to dry out my drenched shirt. Awsome views. Thanks for waiting for me dear! We went for a beer at Wild Bills then took the bus back to camp. Continued to soak up the sun then dinner and another campfire (I know Linda, that you're impressed).
On Friday morning we arose to an early alarm at 6:15am so I could catch the 7:35am bus to pick up our rental car at 8am. I came back to the RV to pick up Kathy and Jazz. Today's plan was to head up the Icefields Parkway as far as the Columbia Icefields and the Athabasca glacier. After that we would head back to Peyto Lake for short hike. Then we would go to view Lake Louise and Morraine Lake. Yes we accomplished this with a few other stops along the way. The day was about 350 km's round trip arriving back to Banff at 6 pm. It was 18 deg at that time with many more tourists in for the Thanksgiving weekend. Quite a few were wearing shorts. The day's tour can be summed up quite simply as "endless breathtaking views". For some that now me, I became an oriental tourist for the day, snapping pictures often. (Debi – I might have exceeded the number taken at the Grand Canyon)
You can view close to 100 glaciers along the parkway and at the Athabasca glacier we hiked up to near the edge of it. Up at that point, the winds were howling at about 80 km/hr. A couple of pictures then back down. Luckily it was around 12 deg at that point. We then headed back with the next stop at Bow Valley summit that overlooks Peyto Lake. We ate our picnic lunch on the summit (7,000'). What more can I say about the "high" of being in the Rockies. A special photo op was taken for my group of CPC ladies – yes "the hat" made the trip! (see below) Walked around Lake Louise area (the lake) saw the Chateau Lake Louise. It was quite busy with tourists, but you could tell from the size of the parking lots, they we set up to have many more tourists. We then headed UP an 11 km road to Morraine Lake for some more post card pictures, sat in the sun and had an afternoon snack. We then headed back to Banff which is about 55 km's south of Lake Louise.
Dinner of stuffed pork tenderloin and a campfire! It was still 13 C at bedtime.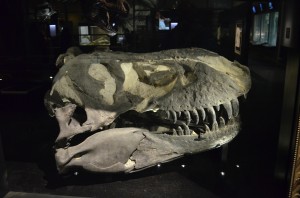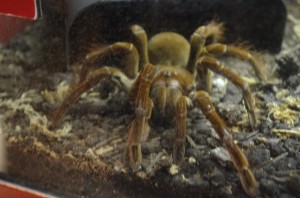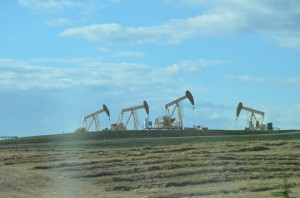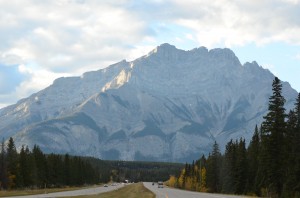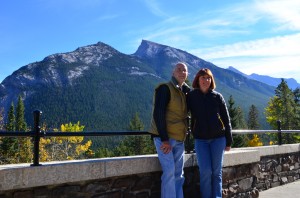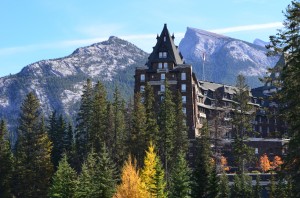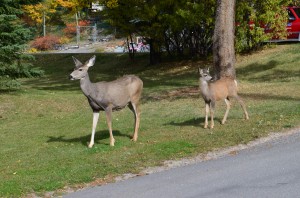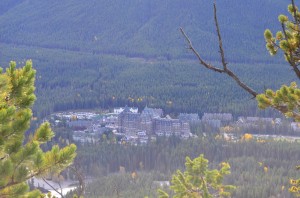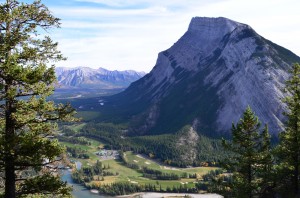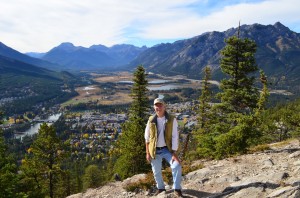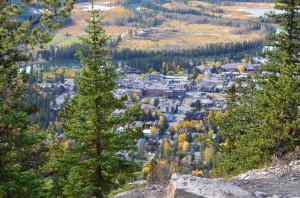 Happy Thanksgiving!