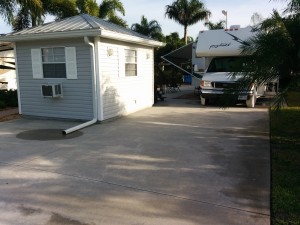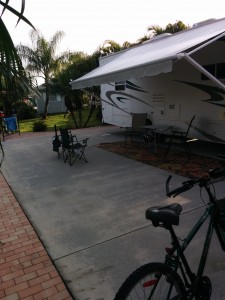 March 10-13
We arrived in Cedar Key and out RV park  (Sunset Isles) to friendly waves from fellow campers.  Shortly after, as we were setting up and sweating, we met Mary our neighbor who was coming back from the Schwan's food truck (they sell frozen desserts, entrée's, etc) with a box of ice cream bars offering us a couple! How nice and it actually cooled me down a bit. We read many good reviews about Cedar Key and especially this park and we received that same "vibe" very quickly.
First let's talk about Cedar Key (CK). If you were to look at a Florida map, you will soon realize this place is remote with only one road in and out – 28 miles from Hwy 19.  It's a great road that's quiet and definitely worth the drive. Our first impression once in town was that of a "maritime" village. CK began as a fishing and clamming community back in 1859 and continues that tradition today. Today, 95 % of "farm-raised" clams in the U.S. come from here. Biking around the town's streets offers up lots of history with older homes and evidence of fishermen and clammers all around with boats, traps, etc.. This is one destination we would like to revisit for a longer stay. The downtown area is small and quaint and biking around it was fun.
On Tuesday after setting up, we walked around the small park to check out the facilities and meet some of the other campers. In the friendlier parks, other campers are very anxious to tell "newbies" about the park and the area you arrived at. It was getting late in the afternoon and the first thing we learned was there was a Tiki Bar about 500 feet down the road, so we wandered down there and talked to more tourists picking up more information about the area, the local restaurants, etc. We enjoyed a nice sunset and back to camp for dinner.
Wednesday, we woke to warm temps and high UV's. We unhooked the bikes and biked an easy 1.3 miles to town where we first toured the cemetery and boardwalk/park area north of the downtown area. After a walk on the boardwalk, we headed to the "downtown area" which is comprised of a short main street and a gulf front area where the fishermen and tourists hangout. It's comprised of a a couple of large fishing piers and 4-5 restaurants with the same number of "tourist" stores. (no I didn't by another T-shirt!) We where there for lunch time an managed to find a nice spot right on the water on the second floor with great views of the many surrounding keys. By the time we had arrived back to camp after it struck us that we had gotten quite a bit of sun as it took a couple of hours to cool down in the shade and played some Scrabble. A steak BBQ was on the schedule for dinner. No complaints.
Thursday we awoke to another warm and humid day – not complaining!! After breakfast, we decided to walk to town for some more exercise and took our furry friend with us. We basically walked into town, but some of "Tony's" world famous clam chowder in a condensed can and a couple of grocery items. Tony, a local won the world championship in New England 2009,10 and 11 and they retired his recipe into the Chowder Hall of Fame. No one has ever done that before and he doesn't need to compete anymore. We'll try it someday soon. After arriving back to the camp, we had a light lunch and then it was beauty salon time! Thank goodness the A/C works well in the RV. Later in the afternoon we played some Rummikub. We had a quiet evening visiting the Tiki Bar for only one cold one. The sunset was too great, so we were back home early.
Friday we were up early, packed and on the road by 8:30am heading to St. Petersburg Beach area (Indian Shores) to visit with my sister Cheryl and brother-in-law Doug.  Parking was an issue in the area, as was finding an RV park, so what started as an overnighter in a Walmart lot for the night ended up with a short visit at their condo and lunch out. With the rising temps, dry camping as well as Jazz spending time in the RV wasn't going to work. After lunch, we parted ways around 2:30 and continued down the road another 130 miles to Ft. Myers. We arrived at Cypress Woods around 5:30 to a greeting from Kathy's brother Wayne and sister in law Lynn.  Our new and beautiful home for the next 9 nights! See pics.
We'll squawk in a week or so!!!